ATK for SuperCollider3.9 - Quark-tastic!
Posted by

Joseph Anderson
---
Out Now!!!
---
The big news here at ATK Central is the latest release SuperCollider 3.9. A Very Big Thanks to the SuperCollider Development Team for all the dedication and hard work!
Coinciding, is the v.4.0.1 release of the Ambisonic Toolkit for SuperCollider3, bringing a change in the distribution model. The ATK's distribution is now refactored to:
This Quark-ification of the ATK offers a robust handling of dependencies and a more responsive development cycle. The README's List of Changes summarizes the main new Features, Refactoring, Updates and Fixes. You'll see refactoring includes moving fixed matrices to atk-matrices, bringing these inline with the matrix reading & writing feature added in Version 3.8.0. It also adds the opportunity to more easily expand the ATK's inbuilt encoding and decoding options.
---
Any other Cool Stuff?
Yeah!
---
Soundfield Analysis
I'm very excited about the addition of Soundfield Analysis, offering a verbose set of features, including:
High-level Soundfield Indicators
Soundfield Levels
Soundfield Energies
Soundfield Incidences as vectors
Soundfield Intensities as magnitudes & vectors
What does this mean? The short answer: unprecedented insight into your soundfield! The High-level Indicators offer details on what kind of soundfield you've got. Soundfield Incidences let you know where your sound is "coming from". (If from anywhere?) Given these details, transforms can be applied to the source soundfield, or spatial cross-synthesis can be applied to another soundfield. Yeah! We're excited here. Maybe a bit over excited!
---
Soundfield transform display
We've added the ability to visualize, audition and customize FOA soundfield transforms. This brings ATK for SuperCollider into alignment with the visualization found in ATK for Reaper. Additionally, custom chains of matrices can now be generated and visualized. This means it is now easy to design your own spatial filters, and review a visualization of the spatial result.
Yeah, that's cool!
---
B-format Audition / Player
A nice little utility offering audition of FOA recordings, panning planewaves, diffuse soundfields, and transforms.
A picture is worth a thousand words: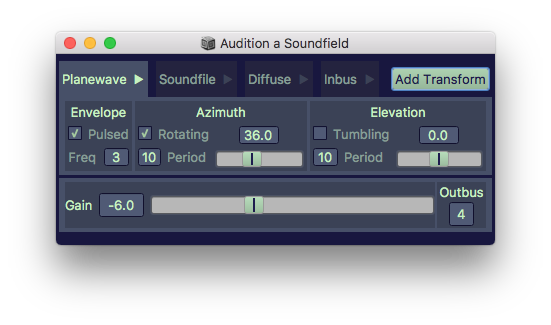 ---
How to upgrade?
Follow the installation instructions for ATK for SuperCollider.
And don't forget the latest Kernels, Matrices, & Recordings.