---
ATK@Notam
Date: 1 - 5 October 2018
Location: Notam studios, Oslo, Norway
---
Five days of Ambisonics
At the invitation of Notam, Trond Lossius and Joseph Anderson (det er meg) will be leading five days of advanced exploration into the world of Ambisonics and the Ambisonic Toolkit. Day by day, we'll review the following topic areas:
Monday: Introduction

Soundfield kernel composition: an idiomatic musical composition strategy
Ambisonics Theory & Background

Tuesday: Getting started

Heyser's Analysis
Acquisition Techniques

Wednesday: Imaging and Processing I
Thursday: Imaging and Processing II

Soundfield decomposition & re-composition

Friday: In practice

Review: Soundfield kernel composition strategy
Soundfield decoding, 'in practice'
Further details and information regarding registration can be found on the Notam workshop page.
---
Composing with Soundfields, 'think Ambisonic'
Soundfield kernel composition: An idiomatic composition strategy addressing the holistic problem of creatively controlling a complete soundfield for aesthetic purposes.
Over the workshop we'll explore these topics from the perspective of the soundfield-kernel paradigm. Spatial sound composition becomes of task of soundfield authoring and imaging, rather than one of 'placing' a sound in a sound-scene. Attendees will gain insights into soundfield construction, deconstruction and reconstruction, seeing (and hearing) how soundfields can be assembled and disassembled.
Richard Heyser's soundfield analysis will be reviewed in the context of Ambisonics, offering deeper views into what makes up a soundfield. Imaging and processing will be examined in relation to the nearfield effect (NFE), allowing imaging 'within' the soundfield. And… combining analysis with imaging and processing will allow us to design parametric soundfield processing.
Now that's spatial composition!
---
About Notam?
Notam is a center for the development and innovative use of technology in music and the arts. The center is a resource for anyone who works with technology as an artistic tool, and is focused on sharing of knowledge and expertise.
Notam is mainly operated with public funds, primarily through operating grants from Arts Council Norway. In addition, The Norwegian composer's fund gives an annual organizational support.
---
---
Out Now!!!
---
The big news here at ATK Central is the latest release SuperCollider 3.9. A Very Big Thanks to the SuperCollider Development Team for all the dedication and hard work!
Coinciding, is the v.4.0.1 release of the Ambisonic Toolkit for SuperCollider3, bringing a change in the distribution model. The ATK's distribution is now refactored to:
This Quark-ification of the ATK offers a robust handling of dependencies and a more responsive development cycle. The README's List of Changes summarizes the main new Features, Refactoring, Updates and Fixes. You'll see refactoring includes moving fixed matrices to atk-matrices, bringing these inline with the matrix reading & writing feature added in Version 3.8.0. It also adds the opportunity to more easily expand the ATK's inbuilt encoding and decoding options.
---
Any other Cool Stuff?
Yeah!
---
Soundfield Analysis
I'm very excited about the addition of Soundfield Analysis, offering a verbose set of features, including:
High-level Soundfield Indicators
Soundfield Levels
Soundfield Energies
Soundfield Incidences as vectors
Soundfield Intensities as magnitudes & vectors
What does this mean? The short answer: unprecedented insight into your soundfield! The High-level Indicators offer details on what kind of soundfield you've got. Soundfield Incidences let you know where your sound is "coming from". (If from anywhere?) Given these details, transforms can be applied to the source soundfield, or spatial cross-synthesis can be applied to another soundfield. Yeah! We're excited here. Maybe a bit over excited!
---
Soundfield transform display
We've added the ability to visualize, audition and customize FOA soundfield transforms. This brings ATK for SuperCollider into alignment with the visualization found in ATK for Reaper. Additionally, custom chains of matrices can now be generated and visualized. This means it is now easy to design your own spatial filters, and review a visualization of the spatial result.
Yeah, that's cool!
---
B-format Audition / Player
A nice little utility offering audition of FOA recordings, panning planewaves, diffuse soundfields, and transforms.
A picture is worth a thousand words: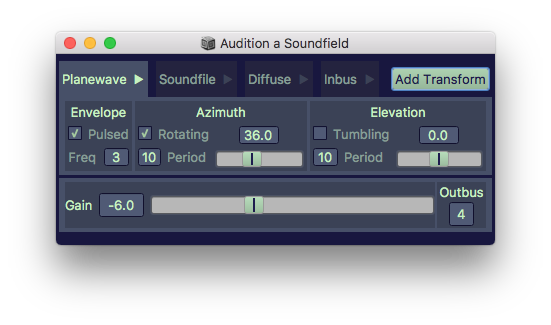 ---
How to upgrade?
Follow the installation instructions for ATK for SuperCollider.
And don't forget the latest Kernels, Matrices, & Recordings.
---
Hot off the presses!
Even hotter off the presses!!
Careful, don't burn yourself!!!
---
As you might be suspecting by now, we're very excited about this latest release of the Ambisonic Toolkit for SuperCollider3 here at ATK Central. We'd really like to thank the SuperCollider Development Team for all the hard work getting this latest release out. Thanks everyone!
As you know, the README's List of Changes summarizes the main new Features, Updates and Fixes. You'll see we've made quite a few additions and clarifications to the Documentation. The SynthDef and NRT examples for ATK page is much more verbose—which we expect will be much more helpful. We've made a very useful improvement for working with kernel encoders and decoders in Non-Realtime. This was kinda tricky before, as OSC message bundles had to be explicitly managed by the user… which wasn't so fun. That's now handled behind the scenes, all to make NRT Ambisonics fun again!
Other Cool Stuff? We've added support for reading and writing Matrix Files. What does that mean? Well… in the longer term, it'll lead to closer integration with ATK Reaper. We'll be able to design a custom matrix (Encoder, Transformer, Decoder) in ATK SC3 and then use it in Reaper. It'll also mean we'll be able to author matrices via external tools, say the Ambisonic Decoder Toolbox, for use with the ATK. In the short term, matrix reading and writing improves the workflow for custom matrix design.
Also, we'd like to reiterate the wide range of supported sample rates:
44100
48000
88200
96000
176400
192000
To get this support you'll need to download and install ATK Kernels v.1.2.1, if you haven't already. (Of course you already knew!)
Do enjoy!
---
How to upgrade?
Follow the installation instructions for ATK for SuperCollider and install sc3-plugins Version 3.8.0.
And don't forget about the new kernels.
---
View the full archive | Subscribe via RSS